Let's face it, when it comes to managing a brand's social media presence, it can take a lot of coordination. Brand new businesses have launched applications and services to make the management process much easier on the user, but it typically comes at a price. When you're a small business owner or a marketing manager for a non-profit, money is tight. Sure, $10/month isn't a lot by itself, but if you're using multiple tools, the monthly cost can quickly increase.
So for those of you just starting out or have a tight budget, I've put together this list (nearly) 100% free social media tools you can utilize until you can afford the extra costs.
Hootsuite is the most popular and well known of the free social media tools. It's the "all-in-one" solution for content scheduling and monitoring conversations for Google Plus, Facebook, Twitter, LinkedIn, Tumblr and have a host of free and paid "applications" you can connect to your account including: Instagram and YouTube. Their free plan allows you connect three accounts (of any social network) and two RSS feeds.
Hootsuite is also very accessible for those always on the go; you can download their Apple or Android application to monitor your networks wherever you are. If you don't feel like hacking together a social media solution and have less than three accounts to manage, then check out Hootsuite.
Design:
Usability:
Usefulness:
Accessibility:
Pro Plan: $14.99 USD / month

Friends + Me is a beautifully designed, simple to use content scheduler for Google Plus, Facebook, Twitter, LinkedIn, Tumblr and App.net. Their free plan allows you to link one account (a brand page or personal account) for three networks of your choice.
They don't have a mobile app (yet), so you need a desktop computer for scheduling content, but you can download their Google Chrome extension which allows you to share the page you're reading at anytime. Friends + Me is a great alternative for scheduling your content that's not Hootsuite and my personal favourite.
Design:
Usability:
Usefulness:
Accessibility:
Pro Plan: $9.00 USD / Mo.

TweetDeck is Twitter's official content scheduler and conversation monitoring tool that's built for (surprise) Twitter. Their platform allows you to create feeds based on hashtags, searches, specific users and logical choices that work for you (If you wanted a feed that only shows photos from Katy Perry, you can set that up). Unfortunately Twitter removed the TweetDeck mobile app in 2013, but they do have a downloadable desktop app for Mac. If you're on a Windows machine, you're stuck to their online dashboard only.
Given that Hootsuite and Friends + Me can schedule content, and Hootsuite has (pretty much) the same functionality as TweetDeck, the usefulness of this app is tailored to those who only use Twitter.
Design:
Usability:
Usefulness:
Accessibility:
Pro Plan: N/A
Iconosquare is conversation monitoring and analytics tool built specifically for Instagram. It's a very robust platform that lets you do everything you can do on Instagram short of posting actual pictures. Why? Because it's actually against Instagram's terms for third parties to allow posting pictures to Instagram. You have to use the official Instagram mobile app and painfully switch between your personal and brand account.
Back to the point, Iconosquare also provides their analytics software completely free. The analytics isn't customizable (you're stuck with the last 30 days) but as long as you document your data on a monthly-basis, you can piece your activity together rather easily.
Design:
Usability:
Usefulness:
Accessibility:
Pro Plan: N/A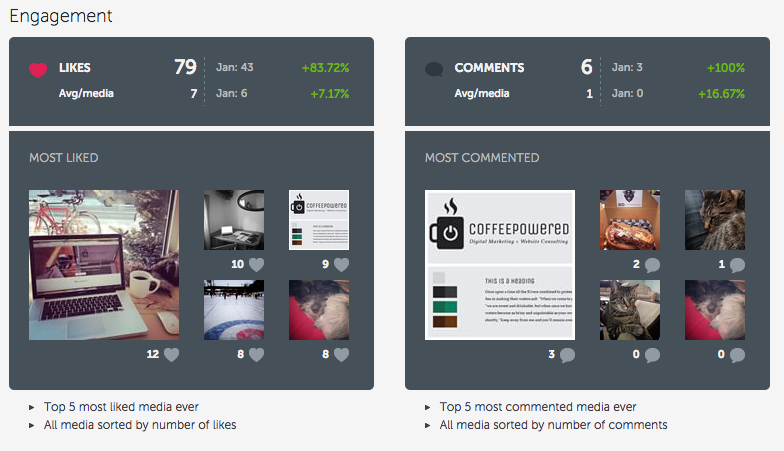 Feedly is a simple to use conversation monitor and database for blogs / RSS feeds. At the time, it served as one of the few go-to options when Google Reader shut down a few years ago. Since then, they've increased their capacity and tweaked their user interface to become one of the best in the business.
One of their greatest features is the ability to save articles and organize them using tags right in the interface. They also provide different thematic options and different ways to view content from headlines only to full articles. Feedly is great for watching industry-related blogs and having content (other than your own) to share with your network. Best of all they have mobile apps, so you can read and save articles on the go.
Design:
Usability:
Usefulness:
Accessibility:
Pro Plan: $3.75 USD / month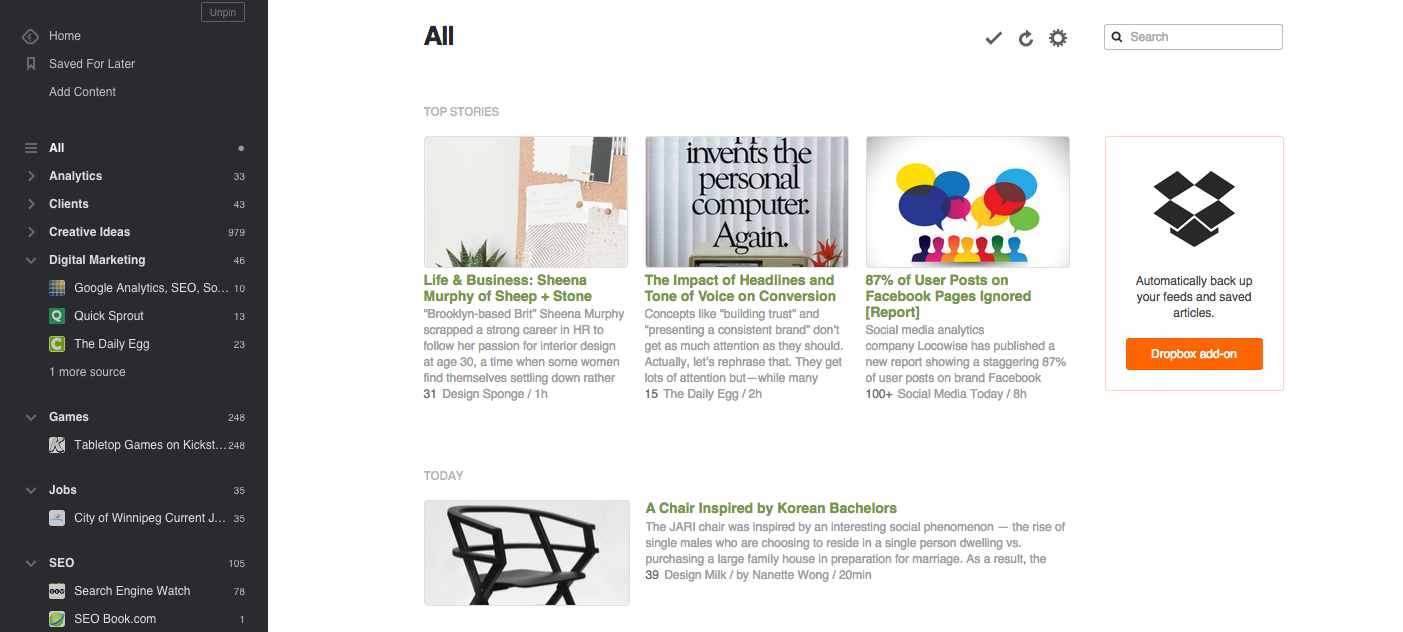 TAGS is a conversation monitor and database for Twitter that stores EVERY PUBLIC TWEET with a hashtag, from a user, or within a list. This isn't a social media platform, it's a Google Spreadsheet built by Martin Hawksey.
To use this tool, it requires an intermediate knowledge of Google Spreadsheets. If you're not familiar with it, find someone contact me because it's insanely useful for campaigns that have a unique hashtag. As I said, it'll track and store all of those conversations right into this spreadsheet (image example uses the hashtag #cdnpoli). The good news is, if you have the Google Drive mobile app installed, you can access this spreadsheet from anywhere.
Design:
Usability:
Usefulness:
Accessibility:
Pro Plan: N/A

At the time of writing, Circular.io was a great alternative to Buffer. However, Circular has had a sign in issue for almost a year with no clear updates scheduled. If you're great with coding, then check out the GitHub. Otherwise, head on over to Buffer instead.
If you've looked for free content scheduling tools before, I'm sure you've heard of Buffer. Buffer didn't make this list because their free plan limits the number of tweets you can schedule to 10; it's not very helpful unless you're paying for it.
Enter Circular. Circular is a simple content scheduler for Twitter that's dead simple and completely open source. It's basically the free version of Buffer but without the scheduling limit. If you're looking for a straightforward, nothing fancy, online-only platform, for only Twitter accounts – this solution may be for you. With all the other options thus far, it only serves as an alternative to TweetDeck.
Design:
Usability:
Usefulness:
Accessibility:
Pro Plan: N/A